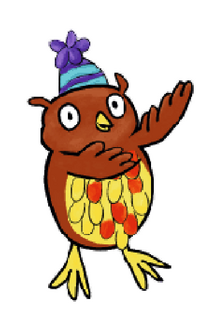 Owl is one of the main characters in the book series Poppy Cat and its animated adaptation. He is the oldest of the group. His laugh is a hooting giggle. He is voiced by Donald King. He always protects Mo.
Physical Appearance
Edit
He is an anthropomorphic seven-year-old orphaned stuffed toy Eurasian eagle owl with a plumage of orange and yellow feathers. He has yellow feet and wears a teal and purple striped wool hat with a purple pom-pom on top.
He has an ordinary name in the neutral Spanish version: Hugo. "Hugo" is to only rhyme with the word "buho" ("owl" in Spanish) and this is a semi-common Spanish name.
In the episode "Royal Toad," Spanish tenor opera legend Plácido Domingo provides Owl's big strong singing voice.